Katy Perry Praises Taylor Swift For Political Instagram Posts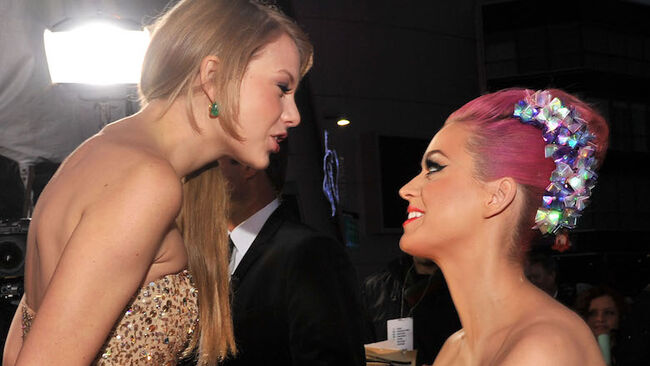 Katy Perry is singing Taylor Swift's praises.
During her appearance at amfAR Gala Los Angeles, the "Swish Swish" singer-songwriter took some time out to voice her support for her former pop rival's rare political endorsements ahead of the upcoming midterm elections on November 6.
According to Variety, Perry was actually one of the first celebrities to "like" Swift's unique statement on politics, so when they asked why she did so, the superstar replied, "She's setting such a great example."
It's the latest sign that the dust between the two music matriarchs has finally settled after years-long reports of their contentious relationship. Back in May, Perry extended a peace offering in the form of an actual olive branch and a personal letter to the "Delicate" artist, to which Swift acknowledged on her Instagram Story.
Earlier this month, the "Bad Blood" performer broke her political silence via Instagram when she declared her support for Democratic Senate candidate Phil Bredesen and Democratic Congressman Jim Cooper.
Swift expressed her approval for the two Tennessee Democrats was based on their shared concern in ending systemic racism and racial discrimination and pushing for gender equality and LGBTQ+ rights. Oppositely, Swift disavowed Tennessee's Republican Representative Marsha Blackburn, whose voting record she said, "appalls and terrifies me."
"She voted against equal pay for women. … She believes businesses have a right to refuse service to gay couples. She also believes they should not have the right to marry," Swift continued in her note. "These are not MY Tennessee values."
The country star's extraordinary message was also credited for the recent spike in voter registrations on Vote.org.